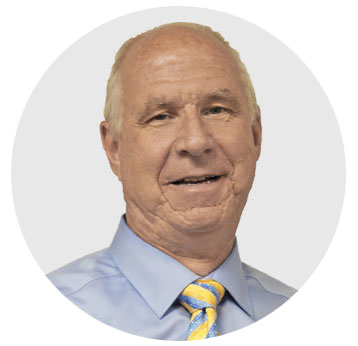 "If it's worth doing, it's worth doing right."
George Fredette, P.E.
President
Civil Engineering
Extension: 215
Mobile: (603) 801-1478
Email: gfredette@sfceng.com
George is a founding partner of SFC and has been with SFC since its incorporation in July of 1994. He received his BS in Civil Engineering for Worcester Polytechnic Institute in 1978, and started his career at Halliburton Services working as a District Engineer from 1978-1983. George then joined forces with his brother as Fredette Associates. SFC was then formed from a merger of Fredette Associates and Cowan & Cricenti in 1994. George is the President of SFC Engineering Partnership, Inc.
George has raised four children, played collegiate basketball, participated in community groups, and enjoys carpentry and working around the house. He relishes kayaking with his wife, and relaxing with a glass of wine. He has lived in four states; traveled to ten countries; seen the sunrise on Cadillac Mountain and heat shimmers in Death Valley, but, what satisfies him the most is the opportunity to make people smile. Whether that is accomplished with random kindness, an attractive presentation of food, friendly humor, or extra effort, he finds that earning someone's smile is life's great reward.
MEMBERSHIPS/ASSOCIATIONS/SOCIETIES/CLUBS:
NH Joint Engineering Society, former chair
Knights of Columbus, Council #7572, Grand Knight
Greater Salem Chamber of Commerce, Economic Development Committee, former chair
Town of Salem, Economic Development Action Committee, former chair
St Matthew Church, Eucharistic minister
2009 Engineer of the Year
2015 Knight of the Year
Windham Economic Development Committee
New Hampshire Society of Professional Engineers
National Society of Professional Engineers
Business Network International
FEATURED PROJECTS:
Canobie Lake Park
Brooks Properties
Salem Nissan
Copper Door Restaurant