For the past five years, Deborah Fernandez, Principal of SFC Engineering, has sponsored the New Hampshire SPCA during their annual auction for the animals.
The event is being held on November 22nd at the Wentworth by the Sea, where hundreds of local businesses and community members join together to help thousands of animals in need. The evening will consist of a dinner party, reception, live and silent auctions. There will also be a new online portion of the auction, showcasing newly donated items.
This year's auction is in loving memory of Majestic, the society's dog ambassador who passed away this past year. Majestic, a rescue dog himself, has been the face of the auction, attending the event for the past eight years. The Majestic fund has been created to help ensure that day-to-day care is available for the nearly 3,000 animals the NHSPCA embraces each year.
Deborah always looks forward to attending the NHSPCA's most important fundraising event of the year! If you have yet to get involved, please do so. SFC Engineering supports the NHSPCA and hopes that you too will become involved in saving the lives of thousands of helpless animals.
SFC Engineering Partnership, Inc., (SFC) is a multi-disciplined engineering consulting firm providing Fire Protection, Civil Engineering, Code Review, Accessibility Consulting, and Retaining Wall Design services to private, commercial, industrial and municipal clients. SFC is celebrating 20 years of engineering excellence!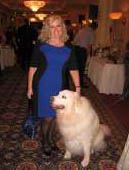 Deborah Fernandez & Majestic
In loving memory of Majestic, the NHSPCA Auction Ambassador